Hemodialysis
It means, blood pumped out of your body to an artificial kidney machine, and then returned to your body by the tubes that connect you to the machine.
Inpatient Hemodialysis
Home Hemodialysis
Paritoneal Dialysis
It means, the inside lining of your own belly acts as a natural filter.
Automated Paritoneal Dialysis
Continuous Ambulatory Peritoneal Dialysis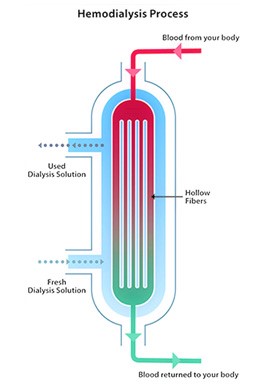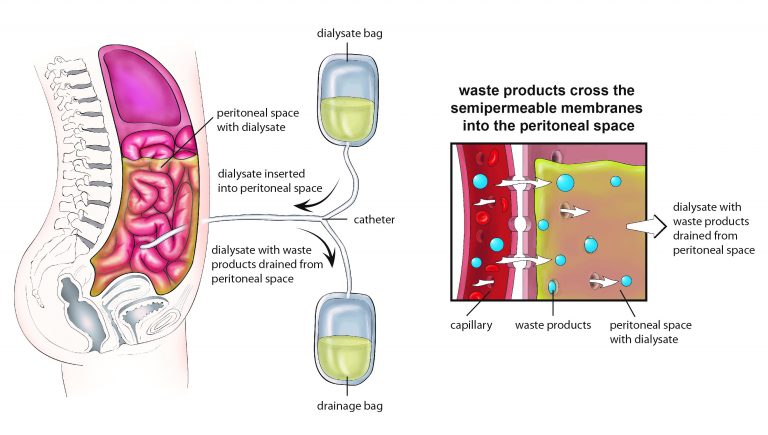 Inpatient dialysis
Home Hemodialysis
Inpatient dialysis
It means dialysis treatment done in our practice. Patients come in on a regular basis, typically three time a week, to have their blood treated with a dialysis machine.
Inpatient dialysis sessions can last anywhere from three to five hours, Patients will be situated in a chair or bed while their dialysis is going, and our nurses will observe the process then entire time. Patients can go after their treatment session and should come back as advised by Doctor.
Home Hemodialysis
In Hemodialysis, a dialysis machine and a special filter called an artificial kidney, or a dialyzer, are used to clean your blood. To get your blood into the dialyzer, the doctor needs to make an access, or entrance, into your blood vessels. This is done with minor surgery, usually to your arm called as AV fistula.
Haemodialysis helps patients with kidney failure to remove waste and excess fluid. It is temporary in most of the cases of acute kidney failure.
Hemodialysis is permanent treatment for patients with advanced kidney failure ; which needs to be done twice or thrice weekly. With good quality Hemodialysis patients have survived even for 20 years. When the patient is on permanent haemodialysis of maintenance haemodialysis, he needs to have regular follow up with his nephrologist every two to three months.
Haemodialyis many a times is life saving treatment in acute kidney failure. Other modalities of dialysis are SLED and CRRT.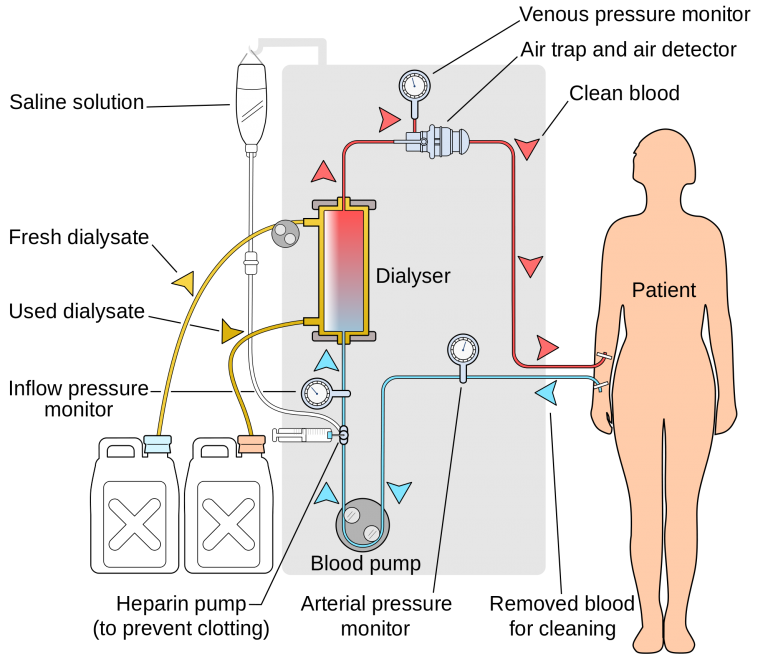 Paritoneal Dialysis
Peritoneal dialysis (PD) is a type of dialysis which uses the peritoneum in a person's abdomen as the membrane through which fluid and dissolved substances are exchanged with the blood. It is used to remove excess fluid, correct electrolyte problems, and remove toxins in those with kidney failure. Peritoneal dialysis has better outcomes than hemodialysis during the first couple of years. Other benefits include greater flexibility and better tolerability in those with significant heart disease.
Peritoneal dialysis is the way to take out waste products from your blood when your kidneys can't sufficiently do the job any longer. This procedure filters the blood in a different way than does the more common blood-filtering procedure called hemodialysis.
 A few weeks before you start peritoneal dialysis, a surgeon places a soft tube, called a catheter, in your belly.
When you start treatment, dialysis solution—water with salt and other additives—flows from a bag through the catheter into your belly. When the bag is empty, you disconnect it and place a cap on your catheter so you can move around and do your normal activities. While the dialysis solution is inside your belly, it absorbs wastes and extra fluid from your body.
After a few hours, the solution and the wastes are drained out of your belly into the empty bag. You can throw away the used solution in a toilet or tub. Then, you start over with a fresh bag of dialysis solution. When the solution is fresh, it absorbs wastes quickly. As time passes, filtering slows. For this reason, you need to repeat the process of emptying the used solution and refilling your belly with fresh solution four to six times every day. This process is called an exchange.
Types :-
automated peritoneal dialysis
continuous ambulatory peritoneal dialysis (CAPD)
Automated peritoneal dialysis
In automated peritoneal dialysis, you use a machine called a cycler to fill and drain your belly. You can program the cycler to give you different amounts of dialysis solution at different times.
A fluid meter in the cycler measures and records how much solution the cycler removes. Some cyclers compare the amount that was put in with the amount that drains out. This feature lets you and your doctor know if the treatment is removing enough fluid from your body.
Some cyclers allow you to use a long drain line that drains directly into your toilet or bathtub. Others have a disposal container.
Continuous ambulatory peritoneal dialysis (CAPD)
continuous ambulatory peritoneal dialysis doesn't use a machine. You do the exchanges during the day by hand
You can do exchanges by hand in any clean, well-lit place. Each exchange takes about 30 to 40 minutes. During an exchange, you can read, talk, watch television, or sleep. With CAPD, you keep the solution in your belly for 4 to 6 hours or more. The time that the dialysis solution is in your belly is called the dwell time. Usually, you change the solution at least four times a day and sleep with solution in your belly at night. You do not have to wake up at night to do an exchange.